Don't floss all your teeth…just the ones you want to keep. ~ sign in my dentist's office
Over the last few weeks, we've been taking a break from more serious topics in favor of some articles about travel. Today I wanted to close this thread out by noting a few items that, depending on the nature of your trip, you may consider taking along with you.
Flossers
I used to keep dental floss in my personal bag to tend to matters of dental hygiene while on travel. The problem with standard dental floss is that one cannot deploy it discreetly; it requires two hands to use (a problem while driving); and, ideally, is used with clean, washed hands. To avoid these problems I now travel with single-use flossers of the type pictured here. If you consider doing the same, look for ones that either come with a travel case or are individually wrapped.
Drawstring backpack
Drawstring backpacks are incredibly handy when you travel and, because they
completely flatten, take up very little space in your bag. I've used my bag to: Carry gear and personal belongings to an outdoor park workout; go on a spur of the moment hike between destinations; carry groceries; and serve as my below-the-seat "personal item" on flights. My favorite bag is this one made by Amatory. I like it because it's waterproof (great for protecting your phone) and strong enough to carry 20 kg of stuff. It's even large enough to fit a basketball in the main compartment.
Travel clothesline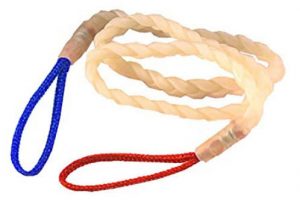 Provided you have some laundry detergent (e.g., Dreft, Tide) and access to clean water, doing laundry while you're on the road is super easy – a great thing if you're going on a longer trip and want to travel light. Although many people use a sink to do their travel washing, I much prefer using a strong watertight bag (e.g., Eagle Creek, aLOKSAK). The bag lets me wash more clothes at once without flooding the bathroom with water.
The problem of course with doing laundry on the road is with the drying. Even tricks like rolling your clothes inside a towel are not likely to leave your clothes dry if you're traveling someplace humid or have clothes made from "non-technical" fabrics like cotton. Inevitably what that means is after you're done washing your clothes you'll need to hang them to let them air dry.
If I foresee I'll need a place to hang my clothes on trips, I take along a portable laundry line such as the one pictured here. The line is braided so you don't need clothespins to hang items and it stretches out to seven feet which works really well!
Summer is over, school is back in session and we are back at making lunches, rushing out the door in the morning, and shuttling to/from after school activities. Admittedly, I have it easier than most. But with every minute of the day seemingly consumed, problems and stress become magnified. During this time, it becomes all too easy to set life goals aside for a better time that will never exist.
Thinking about all of this reminded about the song "Landslide," by Fleetwood Mac. According to Stevie Nicks (Performing Songwriter), the song reflects a moment in her life when, having encountered setbacks, she felt like giving up. However, in Aspen at the time, with the Rocky Mountains in the backdrop, she managed to find it within herself to dig in and decided to keep on climbing. "Landside" was the decision:
I took my love, I took it down
I climbed a mountain and I turned around
And if you see my reflection in the snow covered hills
Well the landslide will bring it down
Since you've probably heard Fleetwood Mac's version, today I'm leaving you with the version put out by the incomparable Dixie Chicks. Hope you like it as much as I do and, if you happen to find yourself in a situation where you're about to give up, consider taking a few days off for a trip to the mountains. Nothing like some mountain air, an open road, and a few days off to help convince you to dig in and keep on climbing!
Cheers…xian
Video not displaying properly? Click here.