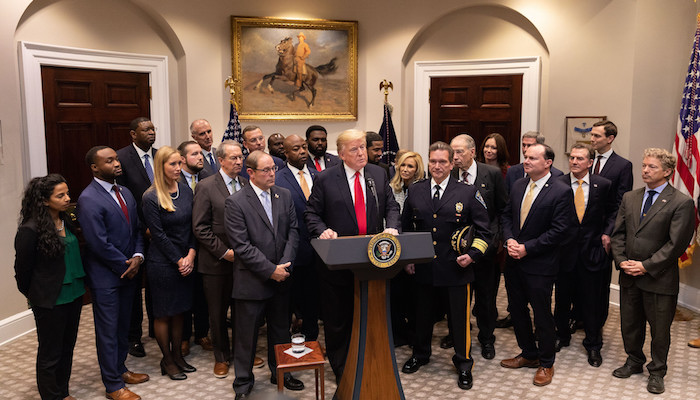 Remember them that are in bonds, as bound with them; and them which suffer adversity, as being yourselves also in the body. Hebrews 13:3 (KJV)

In my article Finding Common Ground in Opposing Viewpoints, I wrote that it didn't take long, when prompted, to come up with a list of positive things the Trump administration has accomplished. (Despite the fact I supported Hillary Clinton in the last election.)

In response, I received more than a few emails from folks on both sides of the aisle asking me to share the list and starting with last week's discussion about the Taiwan Travel Act, today, I'll share the second item on the list.

On December 21, 2018, President Trump signed the First Step Act (H.R. 5682), a criminal justice reform bill into law (Jurist). Not only did it pass with unanimous and bipartisan support in the House and Senate, but it also had the support of diverse groups such as the Koch-backed Americans for Prosperity and the American Civil Liberties Union (Washington Post).

According to (left-leaning) Vox, the major provisions of the bill:

Ease mandatory federal sentencing guidelines.
Allow certain* inmates to earn early release via so-called "good time credits."
Allow certain* inmates to get "earned time credits" by participating in vocational and rehabilitative programs that will allow them to be released early to halfway houses or home confinement.
In the (right-leaning) National Review, Mike Lee, a senior U.S. senator from Utah, articulates the sentiment that largely** supported the bill:

As a former federal prosecutor, I am clear-eyed about crime. Unlike some reformers, I don't think our justice system is fundamentally broken, unjust, or corrupt. […] But my time as a prosecutor also tells me that not every criminal is dangerous or incapable of living a productive life. My faith as a Christian teaches me that many people are capable of redemption. And my instincts as a conservative make me believe that the government can be reformed to work better.

Given the success that criminal justice reform has had in red states such as Texas, Mississippi, and Georgia I think Senator Lee's instincts are spot on. For example, from the (conservative) Heritage Foundation we learn that as a result of such reform:

Mississippi saved $40 million and saw crime go down six percent.
Texas saved money, reduced prison populations and saw crime rates reach historic lows.
Georgia reduced recidivism.
For that reason, I couldn't agree more with President Trump when he stated on Twitter that the First Step Act:

Will keep our communities safer, and provide hope and a second chance, to those who earn it. In addition to everything else, billions of dollars will be saved.

A big win for the President. A big win for our country.

On that note, I leave you with the song, "Keep the Devil Off" by the incredibly talented and underrated musician and producer Big K.R.I.T. When asked how he keeps the devil off, reminiscent of the Stoic philosopher Epictetus he responded with some words of wisdom:

Prayer. Prayer, surrounding myself with positivity, family, and friends. Trying to remember a lot of the things that my grandmother told me, the morals given, and treating people the way I want to be treated at the end of the day. There's always going to be bad stuff that happens. Soon as everything seems positive, it's going to be something negative that comes in. But you gotta remember, that's only because you're doing exactly what you're supposed to be doing. As long as you stay focused, it'll go away. (Revolt)

As to the album (4eva Is a Mighty Long Time) that features the song, quoting Focus Hip Hop:

I'm just gonna go ahead and say it; this album is dope AF.

Indeed.

Cheers…xian
*Section D of the bill has a long list of prisoners that are ineligible to benefit from this program.

**See here for Arkansas senator Tom Cotton's criticisms, none of which survive scrutiny btw (see this source for a rebuttal).