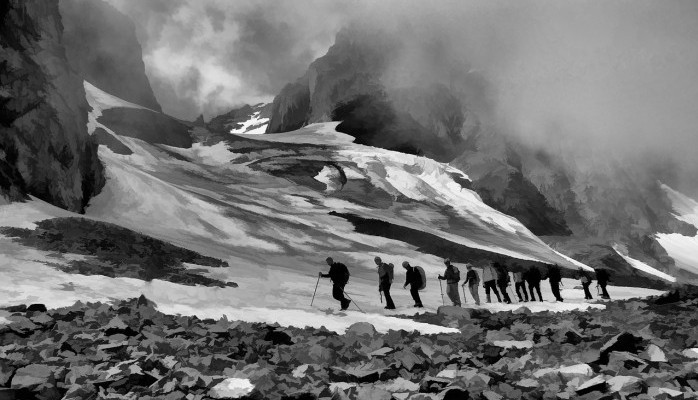 In his book Destructive Goal Pursuit: The Mount Everest Disaster D. Christopher Kayes notes:
Organizational leaders and scholars alike advocate setting and pursuing ambitious goals. The unquestionable value of goal-setting has become ingrained in the culture of organizations. Goals have become the theology of contemporary leadership; evidence to support their effectiveness is abundant.
As a leader, how many times have you been told to dream the impossible, to set 'big hairy audacious goals' and drive your team/organization forward at all cost? As noted in the forward to Kayes' book:
We live in a culture where high goals are a praiseworthy status symbol and relentless pursuit of them a sign of moral superiority. Leaders who set high goals and pursue them regardless of consequences are seen as principled, while the leader who learns from experience and modifies goals accordingly runs the risk of being seen as 'wishy-washy.'
So where are all the stories illustrating how goals can be limiting rather than motivating? Where are the articles demonstrating the unintended consequences of high goals? It's not surprising alternative views are hard to find given that, despite being wrapped in scientific rhetoric, most business books suffer horrendously from survivorship bias. That's a real shame because I suspect a more scientific approach would show that in business, especially where quality matters more than quantity, trying your best may serve the organization better than trying to reach a specific goal. Further, while it is true leaders need to let their teams know where they are going, the real work of a leader is helping them get there by facilitating learning within the team.
By analyzing the May 10-11th 1996 Mt. Everest climbing disaster and drawing on leadership, learning, and organizational behavior literature Kayes argues that:
Setting and pursuing high and difficult goals often drive failure.
Learning and adaptation, not vision alone, lie at the heart of leadership.
Effective teamwork and learning, not simply goal-setting, lead to success in the face of novel situations.
Kayes coined the term goalodicy, a combination of the words 'goal' and 'theodicy' to highlight the moment when a goal ceases to just be an endpoint but also the means to justify the continued pursuit of the goal rather than abandoning it. An important moment indeed for it is here that you're likely to see teamwork and learning break down, unethical decisions being made, excessive risks being taken, and a difficulty with abandoning goals even if they may have disastrous consequences.
The final push to the summit of Everest is a race against the clock. If climbers leave their Camp IV base camps at 12:00 AM they should reach the summit between 12:00 and 2:00 PM and turn around soon thereafter. Ed Viesturs an accomplished U.S. climber who, in delaying his summit attempt ended up watching the events of May 10, 1996 unfold via a telescope (via National Geographic), recalled the following:
Around 2 p.m. (the standard turnaround time on summit day on Everest)—we could make out climbers scattered along the high ridge through the telescope—they appeared just as little specks of red and yellow, lined up, waiting their turns to climb the Hillary Step. It was alarming how much of the time those specks were standing still, not moving. The traffic jam had indeed started to work its mischief.

A few folks had reached the summit by then, but the vast majority was still heading up. Staring through the telescope, I muttered aloud, as if those anonymous specks could hear me, "Guys, you left at midnight. It's two o'clock! It's going to be three or four before you get to the summit." Then, as I watched the all but immobile procession, my mood darkened. "Dudes, what are you doing? Wake up! Guys, turn around, turn around," I urged.

Then the big storm rolled in…
Eight climbers from three expedition teams would soon be dead. Disastrous consequences indeed, and the fundamental leadership lesson according to Kayes?
Learning, not goals, provides the means to resolving leadership's toughest challenges.
Although it has taken me some time to get there, I couldn't agree more and hope that one day we'll have developed a team throughout our entire organization where every individual can take on leadership roles to accomplish different goals. In a section of the book where he writes about 'reciprocal leadership' Kayes quotes Himalayan guide Jim Williams:
It's important to realize that everybody's on that mountain…no matter whose team you're on. That eventually you need to lend assistance as it becomes necessary. I don't think…there's really much room for sort of staying isolated and not lending assistance.
Leaders spend a lot of time talking about getting buy-in to their goals but this misses the point. As hinted at by the Williams quote, the challenge is not in convincing everyone they share the same goal rather in getting everyone to understand they share the same fate.
With this blog already running long I think this is a good time to end this one. Today, instead of leaving you with a piece of music, it seems appropriate to share a story of some folks lending a hand (hat tip Comics Alliance) to someone in need.
Cheers…xian
Video not displaying properly? Click here.