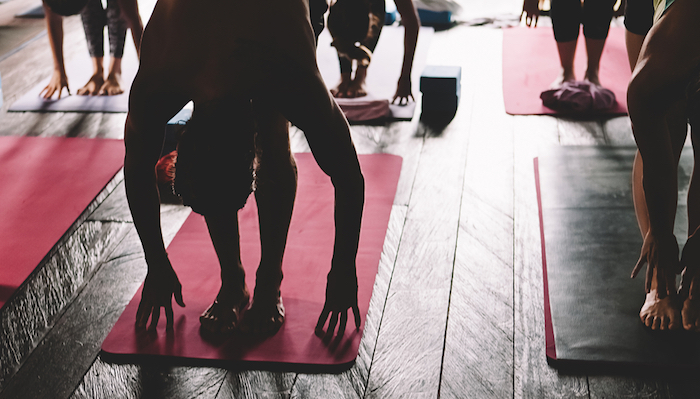 What nature requires is obtainable, and with easy reach. It is for the superfluous we sweat. ~ Seneca
On Saturday mornings, I typically head to a bakery to pick up freshly baked bread for the week. Last year, I noticed a yoga studio across the street from the bakery and thought about giving it a try to help alleviate my ever present back issues.
For the record, at the encouragement of my mom (who has been teaching yoga for 30+ years), I've tried yoga a few times before but just couldn't get into it. Regardless of how good yoga may have been for my body, the slow pace of the classes made me too restless to enjoy myself. Further, given the overall state of my inflexibility, it was hard to imagine my woeful approximations to the poses I was instructed to do were offering any benefit.
But, as I've gotten older, it takes me a lot longer to recover from injuries than it used to. For example, a few years ago, while doing a single arm inverted row, I suffered a shoulder injury that bothers me to this day. Consequently, wanting to stay active and keep up with the young folks, I couldn't help but wonder if yoga might be worth another try.
So it was that last November, an hour before the bakery opened, I found myself sitting on a purple yoga mat waiting for class to begin while making idle conversation:
"A little on the warm side in here today, isn't it?" I said.

"They don't call it hot yoga for nothing," she replied.
In retrospect, the right thing for me to have done at that moment would have been to gather up my things, head to the cafe across the street, regroup, and have a nice relaxing Saturday. However, between not fully processing the implications of her cheery reply and the fact that I'm not particularly good with awkward exits, I decided to stay where I was and stick it out.
The majority of the folks streaming into the class were women but I certainly wasn't the only male in the class. Normally I would have taken some measure of comfort in this until I noticed most of the guys proceeded to take their shirts off. A few were even wearing what, to me anyway, appeared to be "tactical underwear." I couldn't help but wonder about their state of undress. Of course, as the class started to roll it was quickly apparent why someone might opt to shed as much clothing as possible.
Suffice it to say, I was unprepared for how warm the class was and the ensuing sweat factory I would become. As the class progressed, I so thoroughly showered my yoga mat with perspiration I could no longer count on the mat's sticky properties to keep me upright. Thanks to my overall state of inflexibility and inexperience, this made for a genuinely sad state of affairs. In fact, my lips actually cramped up from saying "fuck" so many times.
I was happy when the class ended and not too keen to return, but I must confess, it was hard to ignore the immediate benefits. I went to the pistol range later that same weekend and felt much more comfortable while firing rounds. I even achieved better and more consistent results. My back and shoulder felt better, and for reasons I cannot explain, I found myself sleeping better.
As a result, since that first class in November, it has been a rare day I've missed a Saturday morning yoga class. Although I only go a day a week (and keep my shirt on) my flexibility has improved a great deal and the heat doesn't bother me as much as it used to. Also, because I finally invested in a yoga mat that doesn't get so slippery, I curse much less frequently!
Before I check out for the week, here is a song for our Manufacturing Peace of Mind™ Spotify playlist: Nathaniel Rateliff & The Night Sweats' "I Need Never Get Old." I've heard they are a fantastic group to see live so if they happen to be playing in your neck of the woods, consider checking them out.
Cheers…xian
Video not displaying properly? Click here.