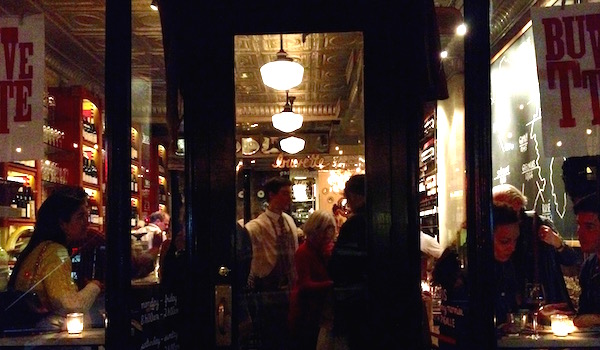 Other rappers dis me; say my rhymes are sissy.

Why? Why exactly? Why? Be more constructive with your feedback, please.

Is it because I rap about reality Like me and my grandma drinking a cup of tea?

There ain't no party like my nanna's tea party. Hey! Ho!

— Flight of the Conchords, Hiphopopotamus vs. Rhymenoceros
Although we have comments closed on the blog I often receive feedback and questions via email (see link at the bottom of every post). In response to last week's article on food in Strasbourg, I was asked if I use online services such as Yelp, Zagat, and Tripadvisor to find restaurants when I travel. I thought it would be worthwhile to postpone the promised post on Alsatian wine until next week and share my response via today's blog.
The short answer to the question is: I work hard not to. You may recall, I have a formula for an unscripted travel experience. Likewise, I have my own set of criteria when looking for a place to have a meal. To that end, here are my three preferred sources for restaurant recommendations: restaurant employees, friends I trust, and newspapers.
Restaurant employees
Next time you find yourself eating at a restaurant you like, ask your server where he/she enjoys eating. Most folks who work in restaurants like food, know food, and are on a budget. For me, they are the perfect source for information. Even if your server happens to have a highly restrictive diet that doesn't sync with your tastes they should still know what restaurants the chefs and/or other servers are talking about. Of course, if you and your server happen to have the same highly restrictive diet then you've hit the jackpot.
Running an aerospace manufacturing company that specializes in the CNC machining of complex parts doesn't exactly leave me rolling in the dough. Indeed, today I'm paying myself less than I made as a graduate student 20 years ago (more on that in a future post).
Consequently, when I pay for a meal, regardless of the cost, it should feel worth the money. My sense is restaurant staff want the same thing whether they are spending $3 at a food truck or $300 at a highly rated restaurant.
Many years ago I read a book by Anthony Bourdain called Kitchen Confidential that paints a detailed insider's description of the restaurant industry. He's exactly the kind of person I am hoping to get a food recommendation from when I'm asking restaurant employees for insider advice.
The problem with Yelp, Zagat, and Tripadvisor is that if someone like Bourdain even takes the time to post a review, what are the chances you'll even come across it? Further, we don't really know who these reviewers are and what their preferences are, so why would we trust their input?
Even if we were to disregard the emotional or nefarious reasons people leave reviews, if one has a broad and deep set of dining experiences under one's belt, a one- or five-star dining experience should be a very rare event. As such, if a seasoned restaurant employee took the time to leave a review, on average, it should in fact fall between those two extremes; that is, exactly where nobody is looking. Think about it, when was the last time you looked at those two- or three- star reviews while making a decision? Unless you are reading reviews for Haribo sugar free gummy bears (see here if you want a good laugh), I'd gather not often.
With that out of the way, if you happen to work in the restaurant business and have a restaurant you'd like others to notice I'd be grateful for your recommendation. If I get enough recommendations I'll compile it as a list and call it Nanna's Tea Party :-).
Friends I Trust
I realize this sounds totally obvious but why look to places like Yelp, Zagat, and Tripadvisor when you can just ask people who know you? Your friends.
Although I've had the opportunity to eat at some fine restaurants, I tend to prefer simple honest foods in the company of friends and family over fancy meals. My favorite dish? How about a burger with yellow cheese, tater tots, and a bottle of French red wine, preferably from Bordeaux? My friends know this about me and, therefore feel good recommending places like Lazy Bear in San Francisco, Wurstküche in LA, or the Imperial Restaurant in Portland over places like the French Laundry.
Newspapers
Although food critics serve a valuable purpose, when looking through newspapers for recommendations, I tend to favor articles that mention restaurants in passing rather than as the focal point of an article.
Travel pieces are great places to start because my sense is, the folks who write them, love food and drink, but don't take food and drink too seriously. In the end it's not about the stars, rather, it's about the stories. It's about how much you, your friends, and family are enjoying a meal together that matters.  Here for example is a randomly selected piece by the frugal traveler Seth Kugel on a bike tour of Eastern Kentucky. Although Eastern Kentucky isn't on the top of my bike travel list, in it I learned about Ale-8-One, a ginger-ale-like-soda, and Kathy's Country Kitchen. Both are now on my "to try list."
Another great place for food recommendations is in articles about wine. I meet my friend M once a month on a Wednesday night closest to a full moon (so I can bike to her house) to share a bottle of wine. I'm tasked with bringing an interesting bottle – she's tasked with providing food. For our next meeting, in an effort to support the Greek economy, I was planning on bringing some Assyrtiko (pronounced ah-SEE-tee-koh) from the Island of Santorini. In doing research I happened upon Eric Asimov's article about the wine and then in passing noticed a 2009 article about grüner veltliner (GREWH-ner FEHLT-lee-ner) that mentioned Quince Restaurant in San Francisco. Wanting to learn about it, I was eventually led to learn about it's sister restaurant Cotogna next door, a place that is now also on my "to try list."
Speaking of Eric Asimov, I highly recommend his book How to Love Wine: A Memoir and Manifesto. It pairs nicely with one of my other favorite books on wine and life by the Dorothy J. Gaiter and John Brecher called Love by the Glass: Tasting Notes from a Marriage. In case you don't know, Gaiter and Brecher were the husband and wife team responsible for The Wall Street Journal's wine column "Tastings" until they left in 2009.  Not sure what happened to them after they left the WSJ but I really enjoyed their articles and cancelled my subscription to the Journal after they left.
If you're traveling in Europe
One last recommendation I'd like to leave you with before checking out for the week is to the site (and app) La Fourchette. In addition to serving up discounts and diner reviews I have found to be more helpful than those on other sites, you can make reservations online – a great feature if you want to spare yourself from making a reservation in another language over the phone.
I got to see my son off to the first grade this week. I feel incredibly blessed and happy to have been able to be there with him. He also lost his first tooth yesterday morning at breakfast.  Awesome.
I hope you're also having a great week. Here is a video from Flight of the Conchords, a New Zealand based comedy band that, in their own words, used to be "New Zealand's 4th most popular guitar-based digi-bongo acapella-rap-funk-comedy folk duo."
Cheers….xian
Video not displaying properly? Click here.