So of all the particulars of health and exercise, and fit nutriment, and tonics. Some people will tell you there is a great deal of poetry and fine sentiment in a chest of tea. ~ Ralph Waldo Emerson
Just returned from Taiwan and although I'm happy to be home, I cannot help but reflect on some of the things I'll miss. Whether it be because of the fantastic people or the beautiful countryside Taiwan truly is an underrated travel destination.
In no particular order here are three things I'll miss about Taiwan (other than the people or the countryside):
The Tea – cold or hot
Walk around a city in Taiwan and it won't take you too long to find a street side store that sells cold tea drinks. Of the many concoctions sold, milk tea with pearls (i.e., boba) is my favorite. I don't care for it sweet or with tons of ice so I always ask to have it dialed in to my specifications. Let me help you with your own order so you don't have to negotiate language barriers or trust Google translate to get it right. In my albeit horrible handwriting, here is what I believe it looks like (no promises):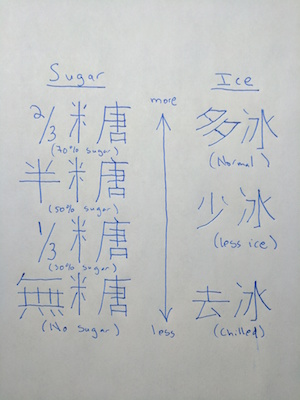 One of my favorite memories is having tea after an amazing dinner with a family friend who happens to live in Tucson. On this occasion, the tea being served was a Taiwanese green tea steeped in a traditional clay pot and served in beautiful cups. (Along with Oolong and black tea, green tea is one of the three teas grown in Taiwan.)
I love green and black tea, but on this trip, I was introduced to White Tip Oolong tea and it's what I'll bring back from Taiwan on future trips. This tea is cultivated without pesticides so that a particular insect, the tea green leafhopper, will feed on the leaves. I'm told the insect bite starts an oxidation process that leads to a delicate sweetness that only a leafhopper could provide.
If you are in a Taiwanese grocery store, you will likely find it under the name "Oriental Beauty Tea" (i.e., Dongfang Meiren). For reference, here is an example produced by a well known Taiwanese tea company, Ten Ren.
The 7-Elevens
7-Elevens are ubiquitous in Taiwan. Really, it's hard for me to describe just how many of them there are. Just when you think you've arrived to an area without one, a sign will appear alerting you that one is right around the corner. While visiting the Nankunshen Daitian Temple (one of the "top 100 religious scenes in Taiwan") in southern Taiwan and wishing for a cold drink I couldn't believe my eyes when I rounded a corner and saw a sign pointing me to a 7-Eleven within the Temple complex.
Why are convenience stores so popular in Taiwan? According to Yen-Fen Tseng, a professor of sociology at National Taiwan University, they have "ingrained themselves as a part of the communities in each neighborhood" and "function as a community entrance." Of course, as she also noted, it could just be because people hate to walk. (WSJ)
7-Elevens in Taiwan provide more than the normal items found in convenience stores. In addition to what you'd expect, you can also call for a taxi, buy/pick-up tickets, have food (you buy) prepared for you, send packages, and pay bills. And these are just the things I'm aware of.
Although I didn't take advantage of all the services offered by/at 7-Eleven, I did find it incredibly convenient to order train tickets online and pick them up there. After ordering tickets online, with the online transaction number and passport number, it was "relatively" simple to print out a receipt from a 7-Eleven kiosk and exchange for tickets at the counter (for a small fee). If you decide to give this a try during your travels and don't read Mandarin, I'd suggest taking someone along who does.
The Food & Night Markets
Suffice it say, one can eat incredibly well in Taiwan: hot pot, milk fish, gua bao, braised pork rice, beef noodle, danzai noodles, shaved ice (perfect dish for a hot day)…the list goes on. Many visiting Taiwan will spend all their time in and around Taipei in the north but if you love food, make sure and take a trip south to Tainan, a city where street vendors sell affordable, delicious food in staggering abundance. Indeed, it's no wonder that many in Taiwan consider Tainan to be its food capital and with Taipei becoming ever more unaffordable for many, I expect to hear more about this wonderful city in the future.
A visit here isn't complete without a trip to the night market. I took the photo that heads today's blog while making my way through the night market in Tainan the night before returning home. While walking through with a local friend, it was explained to me that every town has a market like this one and people in the area grow up becoming attached to the foods made at their market and, in turn, will forever be wedded to it as a source of comparison. I for one, became attached to fried squid made by a woman at a particular stand. Made incorrectly squid approximates what can best be described as "the chewing gum of the sea;" made right, like it was at this stand, squid becomes a dish that surprises and delights with every bite.
Clearly, Taiwan offers much more for visitors than the items noted above so if you decide to pack your bags and head over for a trip be sure to drop me a line letting me know about some of your awesome experiences.
Before checking out for the week I wanted to leave you with some music. Hard to believe it has been 20 years since Radiohead released their breakthrough album OK Computer. Despite their hit "Creep" which came out on their debut album Pablo Honey Radiohead was largely off my radar until the release of the OK Computer, which Rolling Stone called the "last masterpiece of the alt-rock movement." It's an album that has certainly stood the test of time and I'm so glad the band is still together making music.
When the album was released, the track "Let Down" was my favorite but it has become a little too depressing for me so I thought I'd leave you with the comparatively cheery song "Karma Police."
Cheers…xian
Karma Police
Video not displaying properly? Click here.