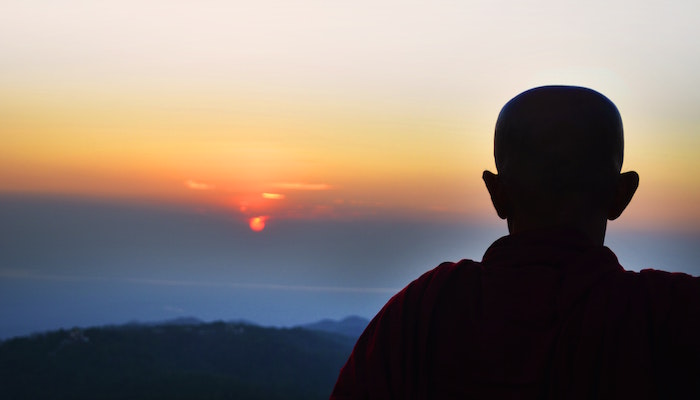 The sun, with all those planets revolving around it and dependent on it, can still ripen a bunch of grapes as if it had nothing else in the universe to do. ~ Galileo
At the start of my Saturday morning yoga class, our instructor shared a story (h/t LB) about two monks who, upon encountering a woman struggling to cross a river, carried her to the other side. After setting her down, the woman gathered her things and continued on her way without saying a word to either of the monks.
The monks in turn also continued with their journey but after two hours of silence, the younger monk burst out:
Can you believe that after carrying that woman across the river she didn't express a single word of gratitude?
Seeing he was flush with anger, the older monk stopped and said:
You foolish boy, why have you been carrying that woman for the last two hours?
Having had the opportunity to interact with many fellow business owners over the years, a recurring theme in these conversations is the lack of gratitude shown by employees for all the "extras" provided beyond pay for hours worked. Indeed, whether it be extras such as:
Matching contributions to our retirement plan
Bonuses
Coffee and healthy snacks
Paid Lunches
Overtime
Additional holidays
Paid health insurance
I rarely receive much in the way of thanks from my employees. Although some might argue the items on this list are not "extras" warranting gratitude, given the slim margins and competition in our market, just making payroll every two weeks can, at times, be a monumental challenge. Nevermind the extras.
So I get it; it's nice to be thanked. However, if you are doing something with the expectation of receiving thanks, then you're doing it for the wrong reasons.
Why give, then, if that's the case? Although clearly this is a personal matter, here are a few of my own reasons.
To let go of my attachment to the business.
Running any type of small business is a difficult affair that, statistically, is destined for failure. The Bureau of Labor Statistics, for example, (see Chart 3 here) shows us that only half of all new establishments survive five years or more and about one-third survive 10 years or more*. These statistics are remarkably consistent over time. Whenever I consider Evaero's income statement while making a determination on how much we can afford to give, the process alone helps me to let go of my attachment to my business. This detachment helps me during difficult times.
To recognize I am in business due to the generosity of others.
Whether it be my customers, mentors, employees, family, or community, that my business survives is due in large part to the generosity of others. We recently lost a large contract to an Ohio company for parts we've been making for many years. An employee of mine asked me if I was angry. Although I was certainly disappointed, instead of being upset about the work we just lost, we should be grateful for the work that company has given us over the years. A practice of giving allows me to have that positive frame of mind.
What comes around goes around.
As I noted last week, if we want to succeed, we obviously need a combination of luck, hard work, and ability. However, as documented in Adam Grant's book Give and Take, we would do well to remember that success also depends on how we interact with others:
Every time we have a choice to make: do we try to claim as much value as we can, or contribute value without worry about what we receive in return?
And the benefit to those who don't worry? As stated in Psalm 112:5:
Good will come to those who are generous and lend freely, who conduct their affairs with justice.
So, the next time you find yourself weighed down because someone didn't recognize your extra efforts on their behalf, lighten your load by being grateful for the blessings that allow you to give in the first place.
On that note, this is a good time for me to check out for the week. Before I do though, how about some music for our Manufacturing Peace of Mind™ Spotify playlist? Here then is a song off of Amos Lee's new album My New Moon titled "No More Darkness, No More Light." Hope you like it.
Cheers…xian
*Note that businesses are closed for reasons other than failure. I will see if I can find a breakdown to these stats when I have a little more time.
Video not displaying properly? Click here.