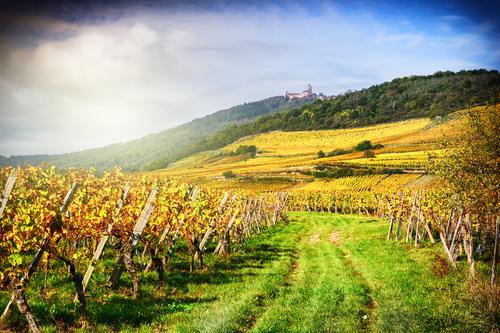 In Europe then we thought of wine as something as healthy and normal as food and also as a great giver of happiness and well-being and delight. Drinking wine was not a snobbism nor a sign of sophistication nor a cult; it was as natural as eating and to me as necessary… – Ernest Hemingway, A Moveable Feast
In today's blog, which will be the final in my triptych about Strasbourg, France (travel, food), I want to talk about Alsatian wine.
First, a little about buying wine in Strasbourg.
As noted earlier, when my family and I travel, we usually stay in an apartment (via AirBNB) rather than in a hotel. As a result, we spend a lot of time getting meals together and, regardless of what we're cooking, wine is always on the shopping list.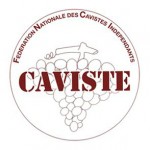 Although there are many wine stores in Strasbourg, I'd recommend an independent shop rather than a large chain store. An easy way to do this is to watch for the Fédération Nationale des Cavistes Indépendants affiliation – most will display the logo or the words caviste indépendent on their storefront.
An example is La Cave du Gourmet, my favorite wine merchant, located at 2 rue du Noyer in Strasbourg. Their staff is passionate and knowledgeable about wine, and you'll find they have a good selection at various price points. If you stop in, please be sure and say hello on my behalf!
Does your ability to speak French (or lack thereof) leave you feeling a wee bit nervous about going into a French wine store and buying a bottle wine? Keep it simple. If you want a bottle of white wine just state that and the desired sweetness; if you want a bottle of red wine just state that and the desired fruit level. After that indicate how much you want to spend.
Here are some terms to help you out:
Type: Red wine

(vin

rouge

) or white wine (

vin blanc

)

Sweetness: Dry (

sec

), something in the middle (

équilibre

), or sweet (

sucré

)

Fruit level: Fruity (

fruité

) or not fruity (

pas fruité

)

Cost: Less (

moins

) than ____ euros
Yes, I realize you can be more specific than this (e.g., body, finish, etc.) but in a language that is not your own I think the additional complexity is unnecessary; especially if you can establish a relationship with a professional and are able to make more than one trip.
A quick word about bringing wine back home from a trip to Europe. With airlines continuing to look towards ancillary revenue to drive their bottom line, a three-pound bottle of wine could inadvertently end up tipping the scales and costing you extra money in luggage fees. My recommendation? Throw a couple JetBags in your suitcase in case you end up having some extra room. The bags weigh nothing so there is no penalty in bringing them along and if you decide to bring wine back you won't have to worry about the contents of a bottle filling your suitcase.  
Alsatian Wine
The Alsace region is home to one of the most picturesque and overlooked wine regions in the world. Today I'm going to assume my role as a self-appointed wine ambassador to the region and try and persuade you to give their wines a try.
Noted mostly for their white wines, red wine is also produced in the region (from Pinot Noir) and their sparkling wine (Crémant d'Alsace) is becoming increasingly popular. According to Le Conseil Interprofessionnel des Vins d'Alsace 92 percent of the grapes grown on the 38,000 acres in the area is destined for white wine, with Riesling, Pinot Blanc, Gewurztraminer (in Alsace no umlaut over the u), and Pinot Gris representing the bulk of what is grown :
Riesling – 21.8 percent

Pinot Blanc – 21.3 percent

Gewurztraminer – 19.8 percent (surprised this was so high)

Pinot Gris – 15.4 percent
One of the great things about Alsatian wines is that in contrast with other (French) wine regions, bottles are labeled with information about the grape varietal. This makes it very easy for a visitor to get to know the region and pair wines with food.
Simplifying things further is that there are only three main appellations in the region:
AOC Alsace

AOC Alsace Grand Crus

AOC Crémant d'Alsace.
AOC (Appelation d'Origine Contrôlée) refers to the strict set of government laws that govern the production and selling of wines from the region. Regardless of the bottle you pick up, and regardless of the price, if it has the AOC designation the wine will be of high quality and hopefully to your liking (although everyone's palates and preferences differ).
As far as the 'Grand Crus' appellation some might opine that the sole purpose of the designation is to justify higher prices. In fact, as one might expect, with only 4 percent of the wine produced in Alsace coming from the 51 areas (lieux-dix) permitted to use the designation, the prices of the Grand Crus are considerably higher. Although Grand Cru boundaries have been contested for financial reasons, with each of the 51 areas now recognized as an appellation in its own right my belief is that it serves a larger purpose by allowing winemakers to showcase the effect of terroir on the wine. Whether this is important or not I'll leave to you, however, I'd argue that in an area where most growers only own a few acres of land, conversations about terroir would be difficult to have without a framework like AOC Alsace Grand Crus. You can find a map of Alsatian regions here.
Riesling
Although this is gradually changing, in America many still think only of Riesling as a sweet wine. Although I don't know for sure, I suspect this has to do with the insipid sweet German wine Liebfraumilch, which I put in the same category of German design tragedies as the Porsche SUV.
I mean no offense to Porsche SUV owners: Clearly, if I had the money I'd buy one. This is an issue of design and I've brought this up with my German friends who are quick to point out the SUV was designed with "export markets" in mind. My response – Would an SUV be made by Bentley I mean Ferrari I mean Aston Martin I mean…wtf?  
Dammit…maybe it's time to give Liebfraumilch another try?
So, back to Riesling. Yes, Rieslings can be sweet but the Riesling I love is dry, crisp, racy, authentic, and acidic: exactly the way they are usually made in Alsace. At its best, it's the kind of wine that wakes up your senses and invigorates the soul. It's the kind of wine that goes just as well with food as it does a good book or conversation.
In automotive parlance it would be the pre-1989 911 of wines.  
If you've never had Riesling like this do yourself a favor and give it a try.
Pinot Blanc
Known as Pinot Bianco in Italy and Weissburgunder in Germany, I'd say of all the Alsatian wines, this is the one I drink the most of. In addition to being reasonably priced, Pinot Blanc is incredibly versatile and a safe choice for many foods and palates. Perfect for a summer day it can be served on its own or with simply prepared poultry, fish, or egg dishes. By the way, Pinot Blanc is the grape that usually goes into Crémant d'Alsace.
Gewurztraminer
Gewurztraminer isn't a wine I gravitate towards and as such I'm not able to recommend any Alsatian food pairings (send me an email if you have any suggestions). I did want to mention it though because if you're looking for a full-bodied spicy wine to go with Asian food it's a great choice.  Since my graduate student days when my friend's wife taught me to cook idli (from scratch I might add), dosa, thali, vada, dal, chutney, and pooris I've been a huge fan of southern Indian food.  Although back then I usually had a beer with Indian food, today I'm just as likely to have some Gewurztraminer.  
Pinot Gris
A wonderful full-bodied balanced wine that manages to be both refreshing and slightly sweet at the same time. Every time I have a glass I'm amazed it's the same grape as found in the Italian Pinot Grigio. In addition to being a perfect wine to have as an aperitif it can stand up to foods you might normally pair with a red wine (e.g., mushroom risotto, osso bucco, pizza margherita) and goes well with most comfort foods.
Blended wines
While shopping for wines in Alsace you're likely to come across two blends: Edelzwicker and Gentil. As best as I could tell the difference between them is that Edelzwicker is an 'anything goes' blend and Gentil is made to a more rigorous set of quality standards. That said, although I never compared them side by side, I don't recall there being a big difference between the wines. Both are very simple, easy to drink wines that would be perfect for an outdoor party/BBQ, with a light summer meal, or while watching a MotoGP race.
I hope I've given you enough information to start your Alsatian wine journey and if you stop at any interesting places on the way please be sure to drop me a line.  Remember friends, it's not about the miles, it's about the smiles.  So, if a trip to Alsace isn't in the budget head down to your local independent wine merchant and ask them for a bottle to go along with whatever you've got planned for the weekend.
This Sunday marks the first Bundesliga game of the season for VfB Stuttgart and I'm looking forward to watching it with my son.  I'm still not sure if the American player Bobby Wood is on his way to VfB or not (gotta love Jurgen Klinsmann's honesty).  Regardless, given their disaster of a season last year I'm hoping that better times are ahead for Die Schwaben.
Talk to you next week.  Until then, here is a short video that captures some of the beauty of the Alsace.
Cheers…xian
Video not displaying properly? Click here.