Part 5 in my series on How to Improve Odds for Success.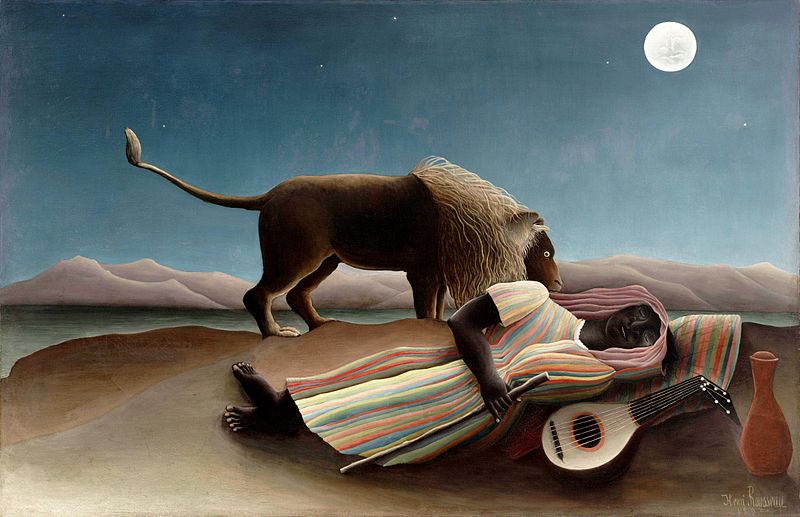 One of my favorite children's book is The Fantastic Jungles of Henri Rousseau by Michelle Markel (author) and Amanda Hill (illustrator). As with all good children's books, the lessons in the book are just as relevant to adults as they are to children.
The story's protagonist is Henri Rousseau, a middle-aged toll collector, who, lacking any formal training, decides he wants to be an artist. Having no money for lessons Rousseau teaches himself to paint and eventually submits his work for critical review. The critics, however, are terribly unkind and ridicule both Rousseau and his paintings.
Undaunted, Rousseau continues to work on becoming a better painter, repeatedly facing harsh reviews. Eventually, as he reaches an old age, other artists begin to notice and end up celebrating him and his work. Today his paintings (such as the one above) are hanging in museums around the world.
The obvious message is one that rewards perseverance despite the odds. However, for the adult audience, there is a deeper, more important lesson. Achieving personal goals comes when we focus our day to day work, analysis, and emotions on the right variables.
Rousseau for example, focused his efforts on being a better painter, not on becoming a critically acclaimed artist. And how did he do that? Mostly by painting, researching the techniques of other painters, and studying plants at the Jardin des Plantes in Paris.
The advantage of setting up his success equation as one that had "becoming a better painter" as the dependent variable was that, regardless of what his ultimate goal might have been, the harsh critics did not obstruct him from his continued efforts.
Here is another example. Last week I shared with you Jerry Seinfeld's advice on how to be a better comedian (source):
The way to be a better comic is to create better jokes and the way to create better jokes is to write every day.
Certainly Seinfeld's ultimate goal is to become a successful comedian but the dependent variable to get there was to create better jokes. Instead of focusing on the wish-driven, he focused on the work-driven. The independent variable to creating better jokes is to write every day. So you see, the wish alone is not enough.
The beauty of directing your efforts towards creating better jokes rather than on becoming a successful comedian is that, regardless of what your ultimate goal may be, things like not getting a part or not getting a good review are less likely to derail you from doing the work that is ultimately required to become successful.
Let's return now to the story from last week that served as the segue to today's blog – that of our hypothetical person who, having set a goal to lose weight, decides to focus his weekly attention on weight (as measured by a scale). If you'll recall, as is the case with many of us who have tried to lose weight, in choosing "weight" as the dependent variable of his success equation our hypothetical person ends up abandoning his goal when the scale doesn't show the desired results.
Taking what we've discussed to date and lessons from Rousseau and Seinfeld how might one approach this differently *?
Step 1: Define the dependent variable.
Start with the question "Why do you want to lose weight?"
Having asked this question to folks trying to lose weight (who are around my age and older) I inevitably find that "weight" is really not the thing they really care about. Here are some of places I've ended up at after asking people why they really want to lose weight:
I want to be healthy.
I want to be happy.
I want to be active in retirement.
Step 2: Define the independent variable.
With the appropriate dependent variable on the left side of your success equation, without forgetting what got you there (i.e., losing weight), select an independent variable for the right side of your success equation.
Although I'll offer some suggestions for setting the right side of your success equation in next week's blog, for the sake of this example, I'm going to choose "exercising every day" as the independent variable. Note that my hypothesis is not directly linked to losing weight, rather it's directly linked to the dependent variables I've noted above. For example: I believe that improving my health depends on exercising every day.
Step 3: Pick a simple, easy, and relevant way to measure your independent variable.
How about starting with a big wall calendar that has a whole year on one page and hanging it on a prominent wall? Then, when you do your task of exercising, grab a big red magic marker and put a big red X over that day. (H/T Jerry Seinfeld via Lifehacker).
With this approach, the scale is no longer the focal point. As result, regardless of what happens with your weight:
You'll be less likely to quit working.
Your focus will be on learning, adapting, and improving; things you'll ultimately benefit from regardless of the progress towards your ultimate destination.
You're more likely to be happy.
To be clear, I'm not saying your top level goals/dreams/aspirations are unimportant. Rather, as I've written elsewhere, in recognizing that these sorts of goals may in fact be unrealistic and come with unintended consequences one is more likely to be better off in the long run by creating success equations that will keep your head down and in the game.
I realize that in a world where "audacious" goals are deemed to be one of the foundational tenants to the theology of success what I'm suggesting here will seem sacrilegious. The reality though, is that the goals we set for ourselves during a drunken stupor on New Year's Eve or at the corporate love fest may in fact not be all that probable and will in the short run likely depend more on luck than work, skill, or willpower to achieve.
Furthermore, keep in mind that most of the stories we read (often wrapped in scientific rhetoric) that tell us otherwise suffer horrendously from survivorship and selection bias.
Returning again to Rousseau, what is clear in the book is how happy Rousseau appeared at the end of life surrounded by his friends, friends who appreciated him for who he was and his art for what he gave to it. Although we cannot say how his life would have ended had his success equation been different, having had the privilege to meet many goal-focused people in my life, the ones who seem truly the happiest are the ones who don't get too wrapped up in their goals and find contentment in simply doing a better job tomorrow than they did today and sharing with others the gifts learned and earned along the way.
Looking forward to chatting again next week. Until then, in a nod to the Rousseau story, today I wanted to leave you with a song by a musician who (judging by the number of listens on Spotify/YouTube) seems to be under-appreciated. His name is Kelley Stoltz and I heard about him when he was touring with one of my favorite childhood bands Echo and the Bunnymen. He has a new album with Castle Face Records called In Triangle Time. I wanted to leave you with the track "Crossed Mind Blues" but couldn't find a video, so instead I leave you with "Prank Calls," a song off his 2006 release Below the Branches.
If you like what you hear….kindly consider sharing what you're earning along the way and support Kelley by purchasing his music or attending one of his shows.
Cheers…xian
* Clearly, I'm not offering weight loss advice.
Photo credit: public domain, PD-US
Video not displaying properly? Click here.