Lessons from the Track, pt. 3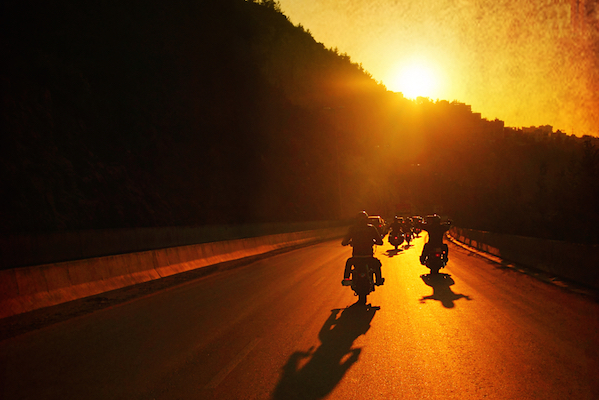 I'd like to wrap up my series on entrepreneurial lessons learned from riding a motorcycle around a racetrack with a discussion about community. If you haven't been following, these are lessons I've found useful while running a business that manufactures complex CNC machined parts for the aerospace industry. (You can catch up with economizing attention and avoiding high side crashes.)
Talk to any motorcycle aficionado and you're sure to encounter strong opinions when it comes to brand or style of bike. When I was doing research at Sandia National Laboratories, I can recall receiving a never-ending ration of grief about whatever bike I was riding from Jim, an MIT-schooled scientist who restored Harley Davidsons. If it was The Ark, Jim would hint subtly about German over-engineering and joke that people who ride BMWs were OCD in nature. Before leaving for a weekend at the track, he'd usually find occasion to insert the word squid in a sentence.
Of course, I'd give it right back.
Thinking back on Jim, I recall he never quite "dressed the part" of a Harley rider in his khakis, a Grateful Dead shirt, and helmet. In fact, there was an incident at the Harley superstore in Albuquerque when he overheard the store manager scolding an employee who had made incorrect assumptions based on his attire. "That guy knows more about Harley's than you'll know in three lifetimes" was the last thing Jim heard the manager said as he left the building with a big grin on his face.
During my time at Sandia, I was introduced to Italian motorcycles. Brian, a friend from the lab, had invited me to his house for a Sunday morning ride to the top of the Sandia Mountains. After some coffee but before our ride, he invited me to take his Ducati F1 for a spin. From the moment I took the bike out, I was hooked: simple, elegant, and capable of producing a primal yet inviting sound that awakens the soul. Although I still regret selling my VFR 750, I've been riding Italian motorcycles ever since.
As a side note, Brian also introduced me to the Louisiana Catahoula Leopard Dog. At the time, Brian and his friend Bonnie were actively involved in animal rescue and subsequently adopted a Catahoula they named Zippy. One of the things I remember about Zippy was the grin he'd get on his face right before he was about to do something mischievous. Suffice it to say, Zippy was a unique dog and over time, much like it has been with me and Italian bikes, I grew to appreciate his quirks. My wife, however, was a little less enamored with Zippy so, while she supports my bike habit, thus far a Catahoula has been out of the question.
In any case, back to motorcycles.
One of the things I enjoy most about riding motorcycles is how they connect me to a community of like-minded riders. Whether it be something simple like the wave I get from other riders out on the road or conversations with mates over a Famous Jemez Burger, I have found myself educated, energized, and enriched by the experience of connecting with others.
For those of us running a small business, managing a group, or coaching a team there is a lot to be learned from this. Each of us can benefit by connecting with others.
You've likely heard decision makers such as executives, managers, or coaches use the cliché "it's lonely at the top" to describe their existence. I don't discount how they feel, however, I'm here to tell you there is no such mandate embedded in their job descriptions. That is, if they are lonely at the top it's because they have made the choice to be that way.
Want loneliness? Try life at the bottom.
Indeed, the loneliest I've ever felt in a job was while working at a restaurant in Klamath Falls, Oregon as a dishwasher. Late Friday nights were accompanied by a rapidly growing pile of dishes and cookware, clouds of steam from the dishwasher, and faith that the dishwasher wouldn't break down. As the rhythm of the kitchen picked up, so too did the number of dirty pots and pans requiring hand scrubbing until a point was reached when it felt like I was climbing the Mt. Everest of dishes. Thinking back on that moment, covered from head to toe in food product and working by myself in shimmering solitude, I remember desperately wanting for some sort of validation that there was life on the other side of those dishes.
Although the life of a dishwasher rarely presents more than cigarette breaks as an opportunity to commune, if you're a business leader, there are countless options available.
One option is a formal peer-to-peer business group. Vistage is probably the best known but there are others including the Women Presidents' Organization, the Young Presidents' Organization, The Founder Institute, and Aileron. You could also consider an informal mastermind group where you simply meet with a group of people in your industry to discuss issues and opportunities. If groups are not your thing, an alternative is an organization like SCORE, whose sole mission is to support small businesses through mentoring and education.
Of course, much like you have to be careful about the guy whose line you're following on a racetrack, so to do you need to be careful about who you take advice from. After taking a high paid consulting job with a management consulting firm, in The Management Myth, Matthew Stewart describes having a last lunch with a philosophy professor and being asked:
How can so many who know so little make so much by telling other people how to do the jobs they are paid to know how to do?
As Stewart takes on famed gurus such as Frederick Taylor, Elton Mayo, Peter Drucker, Michael Porter, and Tom Peters – exposing piles of bullshit along the way – I couldn't help but be reminded of William J. Bernstein's quote in The Investor's Manifesto, that the reason "guru" is such a popular word is that "charlatan" is so hard to spell.
Finding a community that can educate, energize, and enrich you outside your organization is not an easy task. I do, however, think it's incredibly important; especially, in a small business where it's all too easy to find yourself trapped inside a burning building feeling like you need to clean the countertops. A strong community will do many things for you, like help you develop strategies for putting the fires out, push you to gain a larger perspective, and better position you for success or failure.
Speaking of Louisiana, before I check out for the week, please allow me to introduce you to the band The Deslondes, a New Orleans-based "country-soul, swamp-boogie band." Here's a track off their excellent 2015 self-titled album. Looks like they'll be playing at one of my favorite venues (Tipitina's) in December. Hmmm….bad time to be on a strict budget.
In any case, I hope you like the music (click here for my Spotify playlist) and, until next week, remember friends it's not about the ride, it's about riding…so make sure to take some time to get out there, wherever there is.
Cheers…xian
Video not displaying properly? Click here.