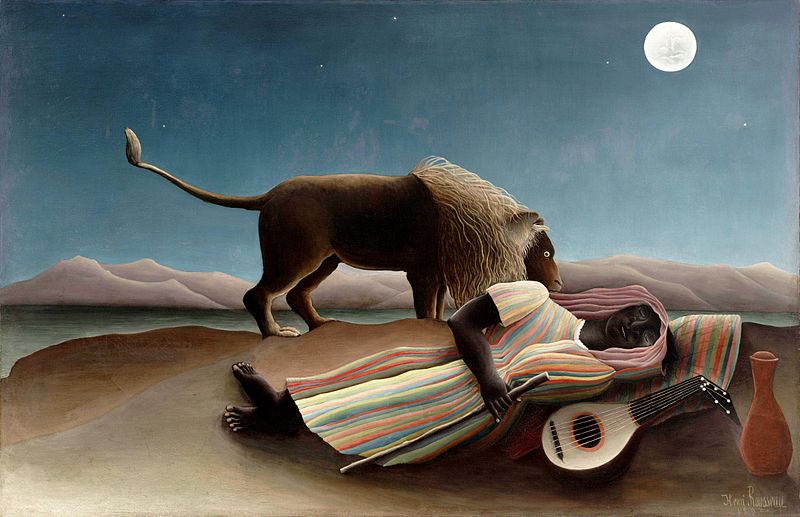 As a follow-up to last week's holiday gift ideas today I'd like to add to the list by compiling the few books I've mentioned over the last year that make for easy reading and would make great gifts.
By Michelle Markel (author) and Amanda Hill (illustrator)
As with all good children's books, the lessons in this book are just as relevant to adults as they are to children. The story's protagonist is Henri Rousseau, a middle-aged toll collector, who, lacking any formal training, decides he wants to be an artist. Having no money for lessons, Rousseau teaches himself to paint and eventually submits his work for critical review. The critics, however, are terribly unkind and ridicule both Rousseau and his paintings.
Undaunted, Rousseau continues to work on becoming a better painter, repeatedly facing harsh reviews. Eventually, as he reaches an old age, other artists begin to notice and end up celebrating him and his work. Today his paintings (such as the one above) are hanging in museums around the world.
The obvious message is one that rewards perseverance despite the odds. However, for the adult audience, as noted in my article about creating success equations, there is a deeper more important lesson. That is, achieving personal goals comes when we focus our day to day work, analysis, and emotions on the right variables. Rousseau, for example, focused his efforts on being a better painter, not on becoming a critically acclaimed artist. And how did he do that? Mostly by painting, researching the techniques of other painters, and studying plants at the Jardin des Plantes in Paris.
A great lesson for those of us hoping to effect change in 2017.
By Dale Russakoff
Written by long-time Washington Post reporter Dale Russakoff "The Prize" is the riveting story of the City of Newark's efforts to fix its utterly broken public school system.
The narrative revolves around what happens to the Newark school system after Facebook CEO Mark Zuckerberg pledges $100 million (to be matched by another $100 million from other donors) to help then celebrity mayor of Newark Cory Booker (who wants to move on to bigger things) and the current Governor Chris Christie (who also wants to move on to bigger things) transform Newark into "a symbol of educational excellence for the whole nation."
While the stories of the big-name-personalities involved (e.g., Oprah, Booker, Christie, Zuckerberg, etc.) and the clash between the teachers' union and those desiring change kept things moving along, what left the greatest impression were the descriptions of all the educators going to great lengths to reach out to kids who are submerged in poverty and surrounded by violence.
Aside from being humbled, suffice it to say, it put the problems I face into larger perspective.
By Dan Barry
This book, which I just recently cited, begins in 1966 when Texas rancher T.H. Johnson participated in a pilot program championed by the Abilene State School in Texas to deinstitutionalize mentally disabled men. As part of the program the "boys," as Johnson called them, were taught agricultural skills while earning (below minimum) wages.
Eventually, with his ranch faltering, Johnson would contract the disabled men to work in a turkey processing plant in rural Iowa where they eviscerated turkeys in return for boarding and $65/month. In turn, between 1974 and 2009, Johnson's workers would eventually find themselves exploited, neglected, abused, and denied medical care while living together in a "temple on a hill" between shifts at the turkey plant.
Parts of the book are unsettling, but perhaps this excerpt from the epigraph will persuade you to consider adding it to your reading list:
For, while the tale of how we suffer, and how we are delighted, and how we may triumph is never new, it always must be heard. There isn't any other tale to tell, it's the only light we've got in all this darkness. ~ James Baldwin
A beautiful piece of storytelling that brings dignity and honor to its main characters and appreciation and respect to those who would ultimately fight to make things right and effect change.
If you end up buying any of these books make sure and drop me a line letting me know what you thought.
On that note, before checking out for the week here is the band Puss N Boots singing the Wilco song "Jesus, Etc." The band, which consists of Norah Jones, Sasha Dobson and Catherine Popper, was reportedly created as a way for Jones and Dobson to learn how to play guitar.
As far as I know, their collaboration only produced a single album called No Fools, No Fun. Although I didn't much care for the album, I did like this particular song and as usual Jeff Tweedy's lyrics are beautiful:
Jesus, don't cry
You can rely on me honey
You can combine anything you want
I'll be around
You were right about the stars
Each one is a setting sun
Cheers…xian
Video not displaying properly? Click here.